EFTTEX is the largest "B2B" fishing tackle trade exhibition in Europe !


This exhibition is exclusive to traders, wholesalers and manufacturers in the Fishing Tackle Industry.

Only full members of EFTTA or members of our affiliated associations can exhibit at EFTTEX.

The European Fishing Tackle Trade Exhibition (EFTTEX) was initiated by EFTTA for the first time in 1982. This has developed over the years into the premier trade show for the industry. EFTTEX attracts some of the most well-known names in the industry and is also a place to meet new and emerging companies within the trade. The location of EFTTEX changes every year, click here to see all the countries in which EFTTEX has been hosted since 1982.
Who can you meet at EFTTEX?
EFTTEX attracts companies, visitors and press members from the trade from around the world. Every year around 3,000 industry guests meet in just 3 days. EFTTEX is the first choice for brands to launch their new products in Europe and is the best option for any size company with serious international ambitions.
Trade visitors profile for EFTTEX 2018                                                                     Visitors to EFTTEX 2018 - main purpose for visiting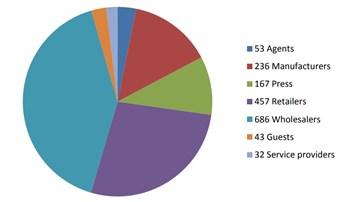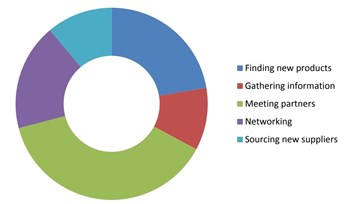 We look forward to seeing you at EFTTEX 2023 !