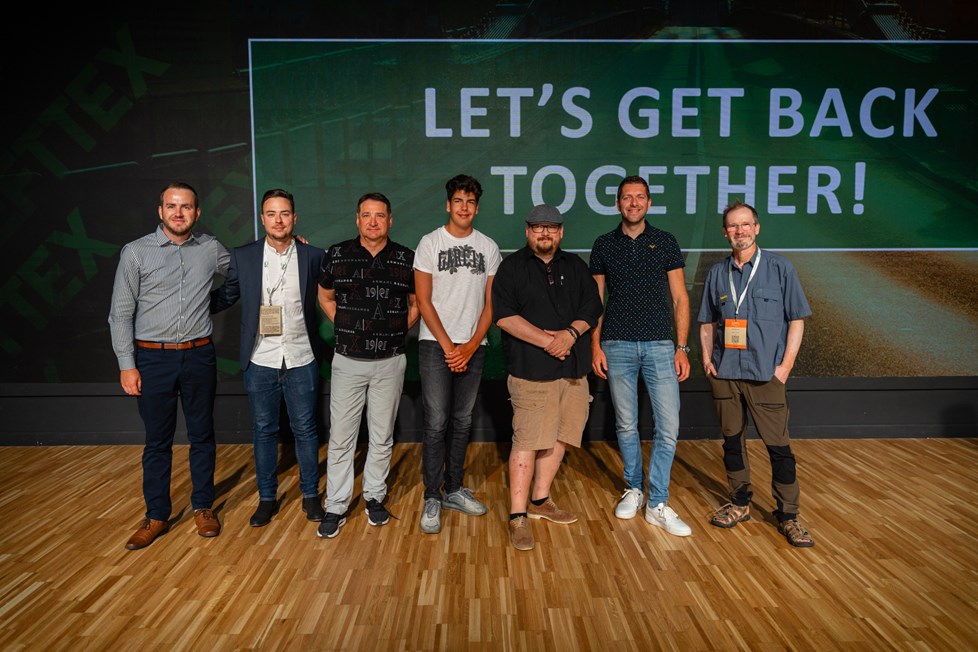 (The Jury members from left to right: Kevin Heyerick, Alex Rigó, Malin Musasecu, Mark - Rik's helper, Maurice W. Willms, Rik Bredewout, Jens Bursell)
Kevin Heyerick
Kevin is a brand independent tournament angler.
Since his childhood Kevin practiced the following types of fishing:
Coarse fishing with a pole rod, coarse fishing competitions on local level in Belgium and all kinds of carp fishing, static fishing, float fishing and on the surface.
He practices predator fishing from the shore and with the belly boat, street fishing competitions, and since the winter of 2022 also predator fishing from his own fishing boat.
His current fishing mainly consists of boat fishing on the big lakes in the Netherlands which are well known for their big pike, perch and zander.
He won quite a few local coarse fishing competitions, for example Brugge Lurefest Pro 2022.
He is very interested in everything that has to do with all kinds of fishing and outdoor equipment.
Alex Rigó
Alex graduated as an Agricultural Engineer, and worked some years in the Hungarian State Treasury. Then moved to the Hungarian National Fishing Federation. He's managing fishing
competitions and also deals with domestic tenders. His father was a fisherman, so most of his weekends were spent on river Danube's shore.
He used to fish with feeder techniques before but nowadays he only tries to
catch predators. In the future he really would like to develop Hungarian fishing and represent his country among the best fishing nations.
Malin Musasecu
Malin is director of Photography, journalist, writer, angler (fishing with artificial lures).
He is chief editor and co-founder of three main stream fishing magazines: Fishing Adventures (Aventuri la pescuit), SuperAngler (SuperPescar) and Fishing for All (Pescuitul pentru toti).
He is a journalist and a board member of Academia Catavencu, a main satirical political journal.
He is the author of the influential book THE ODISSEY OF DIGITAL ANGLER, a book of angling history and fishing techniques based on informational theory, underwater structure, fish biology, fish localization and fishing patterns.
He is the winner of national and international prizes for photography in film festivals, starting with 2012 director and director of photography for two Tv series on Fishing and Hunting Channel: PREDATORS NO RULES and FISHING TRIPS.
He is a founder of first fishing and hunting exhibitions in Romania (starting with 2004) under FISHING ADVENTURE magazine brand., and the founder of Romanian Spinning Championship from Boat.
Maurice W. Willms
Maurice is a carp and all coarse fish specialist, with a hint to fly fishing.
He's involved early in Silstar, Pelzer Baits and Korda.
Job wise he was involved as an employee in ACE Tackl, a product Manager & European Manager for Taska, a product Manager for DAM / Svendsen Sport
He has his own carp brand Flanx and he is heavily evolved in Carp in Focus.
Rik Bredewout
Rik Bredewout was involved in the Best New Product Showcase jury, because of winning the Angler's Choice Award by Tacklestream last year.
He was born in The Netherlands in a family that loves to fish.
Most of the time he fishes zander, asp, perch and pike, and other times carp and tench.
He likes searching for new gears and test them to see if they work for him successfully in angling.
Jens Bursell
Jens Bursell is a biologist, an author, a journalist, a photographer and an editor, is a well-known profile on the European angling scene.
Since the early 90's he has been writing and photographing hundreds of fishing articles published in major fishing magazines in Europe and his articles or books about fishing has been translated into 12 languages.
During three decades Jens has been an innovative pioneer on many new destinations, approaches and techniques in fields ranging from carp and specimen hunting - to trout, pike & predator fishing.
Today Jens runs fiskogfri.dk - the biggest digital media for fishing in Denmark.